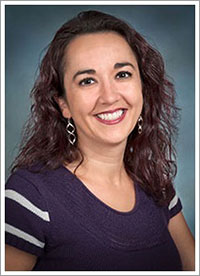 Verónica Martínez Cerdeño
Investigator, Shriners Hospitals for Children
Professor, Department of Pathology & Laboratory Medicine, University of California, Davis
2425 Stockton Blvd, Room 671, Sacramento, CA 95817
(916) 453-2163
vmartinezcerdeno (at) ucdavis.edu
Education
Complutense University, Madrid, Spain B.S. 1993-98 Biology
Autonóma University of Madrid, Spain Ph.D. 1998-02 Neuroscience
Columbia University, NY Postdoctoral training 2002-04 Brain Development
University of California, San Francisco Postdoctoral training 2004-07 Brain Development
University of California, Davis, M.I.N.D. Institute, Postdoctoral training 2007-08 Autism
Research Interests
The goal of Dr. Martínez-Cerdeño's laboratory is to determine the etiology and the pathology of some forms of autism. In addition, we study the role of stem cells in the development, evolution, and pathogenesis of the mammalian cerebral cortex. We study the anatomy and pathology of autism and related diseases in postmortem brains and based on our finding we develop animal models for autism research. Animal model mimicking our findings in human provide an excellent tool to generate and test new treatment for different kinds of autism.
Current Research
Noteworthy Publications
Current Research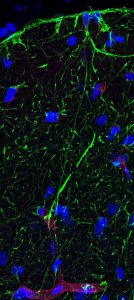 We investigate the pathology, anatomy, and histology of postmortem tissue from subjects with autism and related disorders, including Fragile X Syndrome, and Fragile X-associated tremor/ataxia syndrome (FXTAS). Our most recent discovery is that parvalbumin-expressing interneurons are reduced in discrete areas of the prefrontal cortex in autism. This discovery suggests that a deficit of inhibition acting on pyramidal neurons may contribute to the cognitive phenotype of autism. This brings us a step closer to a fuller understanding of the cellular basis of autism and to the development of new therapeutic interventions. We also developed an autoimmune mouse model of autism based on prenatal exposure to maternal antibodies. In this animal model of autism, we have shown that the anatomy of the cerebral cortex is altered by the administration of human maternal auto-antibodies during prenatal development. We found that the prenatal exposure to maternal antibodies produces behavioral changes in offspring and increased the size of neurons in the cerebral cortex. Other significant contributions in our laboratory include the discovery of an iron metabolism deficit in FXTAS, and the fact that FTXAS pathology develops in early adulthood, not late in life as previously thought.
Cortical evolution has long been one of Dr. Martínez Cerdeño's dearest interests. Our research in cortical evolution has focused on the transition from three-layered lissencephalic cortex to six-layered gyrencephalic cortex, from both an evolutionary and a developmental perspective. One of our most notable contributions to this field was the introduction of the concept of a "two-step hypothesis of cortical evolution". This hypothesis posits that the production of excitatory cortical neurons takes place trough a two-step process where radial glial cells produce IP cells, which then generate cortical neurons. We have provided evidence that this process evolved very early in the vertebrate brain, perhaps at the divergence of mammals and reptiles. Furthermore, we propose that this mechanism of cell generation is responsible for the expansion of the cerebral cortex that took place in mammalian evolution. Since formulating this hypothesis we have published multiple papers adding novel information that corroborate the role of the two-step process of neurogenesis in the evolution of the mammalian cerebral cortex. Our interest in cortical evolution led us to establish and organize the "Cortical Evolution 2015" Conference.
For more information please visit my websites at: www.Ventricular.Org
Noteworthy Publications