Education
1993 Master in Chemistry – University of Buenos Aires
1999 Ph.D. in Neurosciences – University of Buenos Aires
Research Interests
Developmental neuroscience, neural tube defects, spinal cord development, neuronal differentiation, spinal cord and muscle regeneration.
Current Research
Noteworthy Publications
Current Research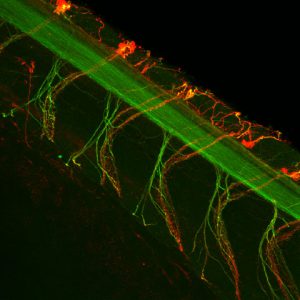 Current research projects in our lab share a common goal of understanding the cellular and molecular mechanisms by which electrical activity, environmental factors and in general, changes in extrinsic and intrinsic cues influence nervous system development and regeneration. Different forms of activity are present at early stages of development, substantially before synapse formation, suggesting that neuronal activity participates in early steps of neuronal differentiation.
The hypotheses that we are testing in each of these projects attempt to challenge the idea that development occurs exclusively by a hardwired genetic program. Instead, we argue that tissue development progresses through a dynamic interplay between genetic programs and variable intrinsic and extrinsic cues.
We investigate the mechanisms by which two environmental factors, folic acid and antiepileptic drugs influence the incidence of neural tube defects. Our lab works with Xenopus laevis as a model system using a combination of methodologies including confocal microscopy, immunostaining, molecular biology, pharmacology, calcium imaging and electrophysiology.
Other projects in the lab are focused on spinal cord and muscle development and regeneration and the interplay between electrical activity and morphogenetic protein signaling.
Noteworthy Publications