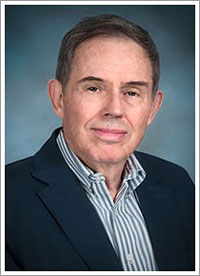 David Pleasure, M.D.
Distinguished Professor, UC Davis
Honorary Member, American Neurological Association
2425 Stockton Blvd, Room 602A, Sacramento, CA 95817
(916) 453-2331
depleasure (at) ucdavis.edu
Education
BA Yale College
MD College of Physicians and Surgeons, Columbia University
Research Interests
Development and regeneration of the nervous system; pathogenesis of demyelinative diseases.
Current Research
Noteworthy Publications
Current Research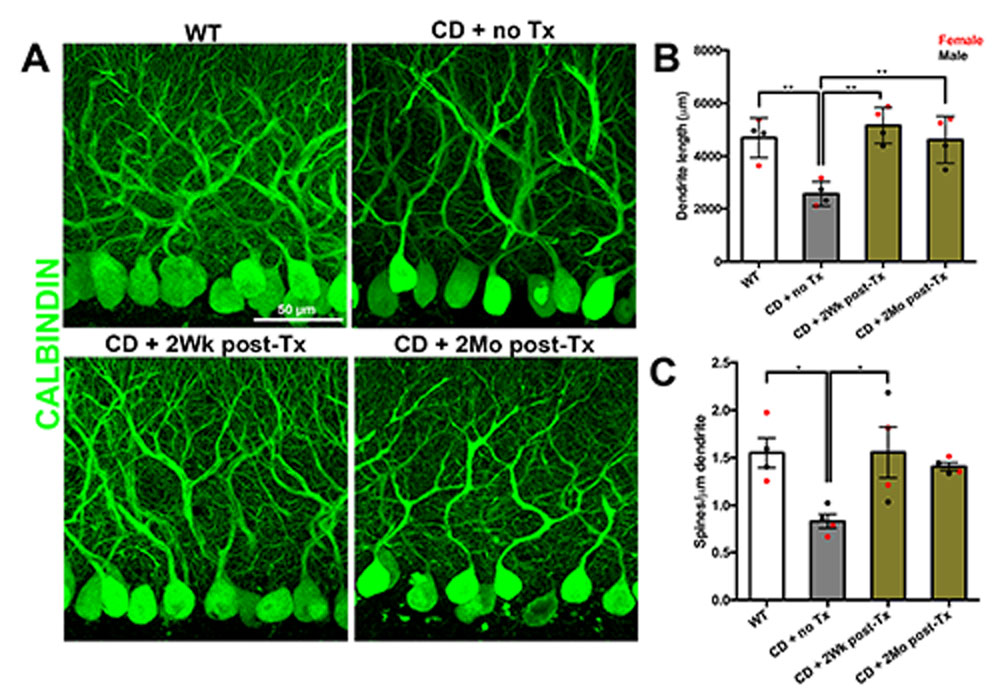 Purkinje cell dendritic atrophy in aspartoacylase-deficient Canavan leukodystrophy mice ("CD mice") can be reversed by inhibiting brain N-acetyl-L-aspartate synthesis via intracisternal administration of an Nat8l antisense oligonucleotide.
Noteworthy Publications
2020
Hull V, Wang Y, Burns T, Zhang S, Sternbach S, McDonough J, Guo F, Pleasure D. Antisense Oligonucleotide Reverses Leukodystrophy in Canavan Disease Mice. Ann Neurol. 2020 Mar;87(3):480-485. doi: 10.1002/ana.25674. Epub 2020 Jan 22. PubMed PMID: 31925837; NIHMSID:NIHMS1586627. Download PDF
2018
Bannerman P, Guo F, Chechneva O, Burns T, Zhu X, Wang Y, Kim B, Singhal NK, McDonough JA, Pleasure D. Brain Nat8l Knockdown Suppresses Spongiform Leukodystrophy in an Aspartoacylase-Deficient Canavan Disease Mouse Model. Mol Ther. 2018 Mar 7;26(3):793-800. doi: 10.1016/j.ymthe.2018.01.002. Epub 2018 Jan 10. PubMed PMID: 29456021; PubMed Central PMCID: PMC5910673. Download PDF
2017
Horiuchi M, Suzuki-Horiuchi Y, Akiyama T, Itoh A, Pleasure D, Carstens E, Itoh T. Differing intrinsic biological properties between forebrain and spinal oligodendroglial lineage cells. J Neurochem. 2017 Aug;142(3):378-391. doi: 10.1111/jnc.14074. Epub 2017 Jun 9. PubMed PMID: 28512742; PubMed Central PMCID: PMC6420720. Download PDF
2016
Sohn J, Bannerman P, Guo F, Burns T, Miers L, Croteau C, Singhal NK, McDonough JA, Pleasure D. Suppressing N-Acetyl-l-Aspartate Synthesis Prevents Loss of Neurons in a Murine Model of Canavan Leukodystrophy. J Neurosci. 2017 Jan 11;37(2):413-421. doi: 10.1523/JNEUROSCI.2013-16.2016. PubMed PMID: 28077719; PubMed Central PMCID: PMC5242397. Download PDF
Jiang P, Chen C, Liu XB, Pleasure DE, Liu Y, Deng W. Human iPSC-Derived Immature Astroglia Promote Oligodendrogenesis by Increasing TIMP-1 Secretion. Cell Rep. 2016 May 10;15(6):1303-15. doi: 10.1016/j.celrep.2016.04.011. Epub 2016 Apr 28. PubMed PMID: 27134175; PubMed Central PMCID: PMC4864503. Download PDF
2015
Moreno MA, Burns T, Yao P, Miers L, Pleasure D, Soulika AM. Therapeutic depletion of monocyte-derived cells protects from long-term axonal loss in experimental autoimmune encephalomyelitis. J Neuroimmunol. 2016 Jan 15;290:36-46. doi: 10.1016/j.jneuroim.2015.11.004. Epub 2015 Nov 10. PubMed PMID: 26711567. Download PDF
Guo F, Lang J, Sohn J, Hammond E, Chang M, Pleasure D. Canonical Wnt signaling in the oligodendroglial lineage–puzzles remain. Glia. 2015 Oct;63(10):1671-93. doi: 10.1002/glia.22813. Epub 2015 Mar 18. Review. PubMed PMID: 25782433. Download PDF
Guo F, Bannerman P, Mills Ko E, Miers L, Xu J, Burns T, Li S, Freeman E, McDonough JA, Pleasure D. Ablating N-acetylaspartate prevents leukodystrophy in a Canavan disease model. Ann Neurol. 2015 May;77(5):884-8. doi: 10.1002/ana.24392. Epub 2015 Mar 27. PubMed PMID: 25712859. Download PDF
Hammond E, Lang J, Maeda Y, Pleasure D, Angus-Hill M, Xu J, Horiuchi M, Deng W, Guo F. The Wnt effector transcription factor 7-like 2 positively regulates oligodendrocyte differentiation in a manner independent of Wnt/β-catenin signaling. J Neurosci. 2015 Mar 25;35(12):5007-22. doi: 10.1523/JNEUROSCI.4787-14.2015. PubMed PMID: 25810530; PubMed Central PMCID: PMC6705374. Download PDF
Sohn J, Orosco L, Guo F, Chung SH, Bannerman P, Mills Ko E, Zarbalis K, Deng W, Pleasure D. The subventricular zone continues to generate corpus callosum and rostral migratory stream astroglia in normal adult mice. J Neurosci. 2015 Mar 4;35(9):3756-63. doi: 10.1523/JNEUROSCI.3454-14.2015. PubMed PMID: 25740506; PubMed Central PMCID: PMC6605576. Download PDF
2014
Chetty S, Friedman AR, Taravosh-Lahn K, Kirby ED, Mirescu C, Guo F, Krupik D, Nicholas A, Geraghty A, Krishnamurthy A, Tsai MK, Covarrubias D, Wong A, Francis D, Sapolsky RM, Palmer TD, Pleasure D, Kaufer D. Stress and glucocorticoids promote oligodendrogenesis in the adult hippocampus. Mol Psychiatry. 2014 Dec;19(12):1275-1283. doi: 10.1038/mp.2013.190. Epub 2014 Feb 11. PubMed PMID: 24514565; PubMed Central PMCID: PMC4128957. Download PDF
Chechneva OV, Mayrhofer F, Daugherty DJ, Krishnamurty RG, Bannerman P, Pleasure DE, Deng W. A Smoothened receptor agonist is neuroprotective and promotes regeneration after ischemic brain injury. Cell Death Dis. 2014 Oct 23;5:e1481. doi: 10.1038/cddis.2014.446. PubMed PMID: 25341035; PubMed Central PMCID: PMC4649529. Download PDF
Orosco LA, Ross AP, Cates SL, Scott SE, Wu D, Sohn J, Pleasure D, Pleasure SJ, Adamopoulos IE, Zarbalis KS. Loss of Wdfy3 in mice alters cerebral cortical neurogenesis reflecting aspects of the autism pathology. Nat Commun. 2014 Sep 8;5:4692. doi: 10.1038/ncomms5692. PubMed PMID: 25198012; PubMed Central PMCID: PMC4159772. Download PDF
Itoh T, Horiuchi M, Ikeda RH Jr, Xu J, Bannerman P, Pleasure D, Penninger JM, Tournier C, Itoh A. ZPK/DLK and MKK4 form the critical gateway to axotomy-induced motoneuron death in neonates. J Neurosci. 2014 Aug 6;34(32):10729-42. doi: 10.1523/JNEUROSCI.0539-14.2014. PubMed PMID: 25100604; PubMed Central PMCID: PMC4200111. Download PDF
Mills Ko E, Ma JH, Guo F, Miers L, Lee E, Bannerman P, Burns T, Ko D, Sohn J, Soulika AM, Pleasure D. Deletion of astroglial CXCL10 delays clinical onset but does not affect progressive axon loss in a murine autoimmune multiple sclerosis model. J Neuroinflammation. 2014 Jun 12;11:105. doi: 10.1186/1742-2094-11-105. PubMed PMID: 24924222; PubMed Central PMCID: PMC4066277. Download PDF
Moreno M, Bannerman P, Ma J, Guo F, Miers L, Soulika AM, Pleasure D. Conditional ablation of astroglial CCL2 suppresses CNS accumulation of M1 macrophages and preserves axons in mice with MOG peptide EAE. J Neurosci. 2014 Jun 11;34(24):8175-85. doi: 10.1523/JNEUROSCI.1137-14.2014. PubMed PMID: 24920622; PubMed Central PMCID: PMC4051973. Download PDF
Burns T, Miers L, Xu J, Man A, Moreno M, Pleasure D, Bannerman P. Neuronopathy in the motor neocortex in a chronic model of multiple sclerosis. J Neuropathol Exp Neurol. 2014 Apr;73(4):335-44. doi: 10.1097/NEN.0000000000000058. PubMed PMID: 24607968; PubMed Central PMCID: PMC4229074. Download PDF
Gan Q, Lee A, Suzuki R, Yamagami T, Stokes A, Nguyen BC, Pleasure D, Wang J, Chen HW, Zhou CJ. Pax6 mediates ß-catenin signaling for self-renewal and neurogenesis by neocortical radial glial stem cells. Stem Cells. 2014 Jan;32(1):45-58. doi: 10.1002/stem.1561. PubMed PMID: 24115331; PubMed Central PMCID: PMC3963407. Download PDF
Zhao T, Gan Q, Stokes A, Lassiter RN, Wang Y, Chan J, Han JX, Pleasure DE, Epstein JA, Zhou CJ. β-catenin regulates Pax3 and Cdx2 for caudal neural tube closure and elongation. Development. 2014 Jan;141(1):148-57. doi: 10.1242/dev.101550. Epub 2013 Nov 27. PubMed PMID: 24284205; PubMed Central PMCID: PMC3865756. Download PDF
2013
Jiang P, Chen C, Liu XB, Selvaraj V, Liu W, Feldman DH, Liu Y, Pleasure DE, Li RA, Deng W. Generation and characterization of spiking and nonspiking oligodendroglial progenitor cells from embryonic stem cells. Stem Cells. 2013 Dec;31(12):2620-31. doi: 10.1002/stem.1515. PubMed PMID: 23940003; PubMed Central PMCID: PMC3923867. Download PDF
Patel PI, Pleasure D. Whither hope for pharmacological treatment of Charcot-Marie-Tooth disease type 1A?. JAMA Neurol. 2013 Aug;70(8):969-71. doi: 10.1001/jamaneurol.2013.3285. PubMed PMID: 23797977. Download PDF
Daugherty DJ, Selvaraj V, Chechneva OV, Liu XB, Pleasure DE, Deng W. A TSPO ligand is protective in a mouse model of multiple sclerosis. EMBO Mol Med. 2013 Jun;5(6):891-903. doi: 10.1002/emmm.201202124. Epub 2013 May 17. PubMed PMID: 23681668; PubMed Central PMCID: PMC3779450. Download PDF
Chung SH, Guo F, Jiang P, Pleasure DE, Deng W. Olig2/Plp-positive progenitor cells give rise to Bergmann glia in the cerebellum. Cell Death Dis. 2013 Mar 14;4:e546. doi: 10.1038/cddis.2013.74. PubMed PMID: 23492777; PubMed Central PMCID: PMC3615735. Download PDF
Lang J, Maeda Y, Bannerman P, Xu J, Horiuchi M, Pleasure D, Guo F. Adenomatous polyposis coli regulates oligodendroglial development. J Neurosci. 2013 Feb 13;33(7):3113-30. doi: 10.1523/JNEUROSCI.3467-12.2013. PubMed PMID: 23407966; PubMed Central PMCID: PMC3711764. Download PDF
Jiang P, Chen C, Wang R, Chechneva OV, Chung SH, Rao MS, Pleasure DE, Liu Y, Zhang Q, Deng W. hESC-derived Olig2+ progenitors generate a subtype of astroglia with protective effects against ischaemic brain injury. Nat Commun. 2013;4:2196. doi: 10.1038/ncomms3196. PubMed PMID: 23880652; PubMed Central PMCID: PMC3903179. Download PDF
2012
Sohn J, Selvaraj V, Wakayama K, Orosco L, Lee E, Crawford SE, Guo F, Lang J, Horiuchi M, Zarbalis K, Itoh T, Deng W, Pleasure D. PEDF is a novel oligodendrogenic morphogen acting on the adult SVZ and corpus callosum. J Neurosci. 2012 Aug 29;32(35):12152-64. doi: 10.1523/JNEUROSCI.0628-12.2012. PubMed PMID: 22933798; PubMed Central PMCID: PMC3457640. Download PDF
Lee E, Chanamara S, Pleasure D, Soulika AM. IFN-gamma signaling in the central nervous system controls the course of experimental autoimmune encephalomyelitis independently of the localization and composition of inflammatory foci. J Neuroinflammation. 2012 Jan 16;9:7. doi: 10.1186/1742-2094-9-7. PubMed PMID: 22248039; PubMed Central PMCID: PMC3293042. Download PDF
Guo F, Maeda Y, Ko EM, Delgado M, Horiuchi M, Soulika A, Miers L, Burns T, Itoh T, Shen H, Lee E, Sohn J, Pleasure D. Disruption of NMDA receptors in oligodendroglial lineage cells does not alter their susceptibility to experimental autoimmune encephalomyelitis or their normal development. J Neurosci. 2012 Jan 11;32(2):639-45. doi: 10.1523/JNEUROSCI.4073-11.2012. PubMed PMID: 22238099; PubMed Central PMCID: PMC3403747. Download PDF
2011
Guo F, Maeda Y, Ma J, Delgado M, Sohn J, Miers L, Ko EM, Bannerman P, Xu J, Wang Y, Zhou C, Takebayashi H, Pleasure D. Macroglial plasticity and the origins of reactive astroglia in experimental autoimmune encephalomyelitis. J Neurosci. 2011 Aug 17;31(33):11914-28. doi: 10.1523/JNEUROSCI.1759-11.2011. PubMed PMID: 21849552; PubMed Central PMCID: PMC3167226. Download PDF
Soundarapandian MM, Selvaraj V, Lo UG, Golub MS, Feldman DH, Pleasure DE, Deng W. Zfp488 promotes oligodendrocyte differentiation of neural progenitor cells in adult mice after demyelination. Sci Rep. 2011;1:2. doi: 10.1038/srep00002. Epub 2011 Jun 14. PubMed PMID: 22355521; PubMed Central PMCID: PMC3210692. Download PDF
2010
Guo F, Maeda Y, Ma J, Xu J, Horiuchi M, Miers L, Vaccarino F, Pleasure D. Pyramidal neurons are generated from oligodendroglial progenitor cells in adult piriform cortex. J Neurosci. 2010 Sep 8;30(36):12036-49. doi: 10.1523/JNEUROSCI.1360-10.2010. PubMed PMID: 20826667; PubMed Central PMCID: PMC2940828. Download PDF
Horiuchi M, Lindsten T, Pleasure D, Itoh T. Differing in vitro survival dependency of mouse and rat NG2+ oligodendroglial progenitor cells. J Neurosci Res. 2010 Apr;88(5):957-70. doi: 10.1002/jnr.22262. PubMed PMID: 19908280; PubMed Central PMCID: PMC2872551. Download PDF
2009
Kawai K, Itoh T, Itoh A, Horiuchi M, Wakayama K, Bannerman P, Garbern JY, Pleasure D, Lindsten T. Maintenance of the relative proportion of oligodendrocytes to axons even in the absence of BAX and BAK. Eur J Neurosci. 2009 Dec 3;30(11):2030-41. doi: 10.1111/j.1460-9568.2009.06988.x. Epub 2009 Nov 25. PubMed PMID: 20128842; PubMed Central PMCID: PMC2830116. Download PDF
Soulika AM, Lee E, McCauley E, Miers L, Bannerman P, Pleasure D. Initiation and progression of axonopathy in experimental autoimmune encephalomyelitis. J Neurosci. 2009 Nov 25;29(47):14965-79. doi: 10.1523/JNEUROSCI.3794-09.2009. PubMed PMID: 19940192; PubMed Central PMCID: PMC2990681. Download PDF
Selvaraj V, Soundarapandian MM, Chechneva O, Williams AJ, Sidorov MK, Soulika AM, Pleasure DE, Deng W. PARP-1 deficiency increases the severity of disease in a mouse model of multiple sclerosis. J Biol Chem. 2009 Sep 18;284(38):26070-84. doi: 10.1074/jbc.M109.013474. Epub 2009 Jul 23. PubMed PMID: 19628872; PubMed Central PMCID: PMC2758007. Download PDF
Song L, Li Y, Wang K, Wang YZ, Molotkov A, Gao L, Zhao T, Yamagami T, Wang Y, Gan Q, Pleasure DE, Zhou CJ. Lrp6-mediated canonical Wnt signaling is required for lip formation and fusion. Development. 2009 Sep;136(18):3161-71. doi: 10.1242/dev.037440. PubMed PMID: 19700620. Download PDF
Guo F, Ma J, McCauley E, Bannerman P, Pleasure D. Early postnatal proteolipid promoter-expressing progenitors produce multilineage cells in vivo. J Neurosci. 2009 Jun 3;29(22):7256-70. doi: 10.1523/JNEUROSCI.5653-08.2009. PubMed PMID: 19494148; PubMed Central PMCID: PMC2717630. Download PDF
Itoh A, Horiuchi M, Bannerman P, Pleasure D, Itoh T. Impaired regenerative response of primary sensory neurons in ZPK/DLK gene-trap mice. Biochem Biophys Res Commun. 2009 May 29;383(2):258-62. doi: 10.1016/j.bbrc.2009.04.009. Epub 2009 Apr 7. PubMed PMID: 19358824; NIHMSID:NIHMS115754. Download PDF