Associate Director of Research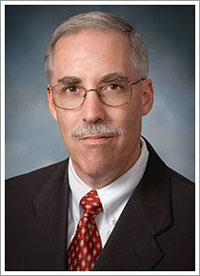 David Greenhalgh, M.D.
Chief of Burns, SHCNC
Professor & Chief of Surgery, UCDMC
2425 Stockton Blvd, Sacramento, CA 95817
(916) 453-2050
dggreenhalgh (at) ucdavis.edu
Education
Hamilton College BA Chemistry, 1977
SUNY Upstate Medical Center, MD 1981
Research Interests
Glucocorticoids and the glucocorticoid receptor in response to injury, innate immunity and scar formation.
Current Research: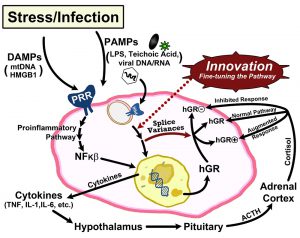 We want to know why people with similar burns can have such radically different responses to injury. Even among siblings, one person may recover quickly while another may suffer multiple setbacks and an extended hospital stay.
We think one answer may lie in the naturally occurring variations in the glucocorticoid receptor, an important component of the burn/stress response. In our research, we work with the clinical staff to look at whether these normally silent differences can affect a burn child's prognosis and recovery. We hope that this will help us tailor our care so each child has the best chance of recovery.
Understand why patients respond differently to injury and treatment
Identify differences in the glucocorticoid receptor and how they affect prognosis
Create novel treatment regimens that are tailored to each individual patient
Noteworthy Publications
TITLE

AUTHOR(s)

YEAR

DOWNLOAD

Lipopolysaccharide stress induces cryptic exon splice variants of the human glucocorticoid receptor. Shock 52: 590-597, 2019.
Green TL, Leventhal SM, Lim D, Cho K, Greenhalgh DG.
2019

HTML


Inhalation injury does not influence the amount of blood transfused to major burn patients: A secondary analysis from the Transfusion Requirement in Burn Care Evaluation Study. J Burn Care Res 40: 757-762, 2019.
Cartotto R, Taylor SL, Holmes JH IV, Arnoldo B, Peck M, Cochran A, King BT, Bhavsar D, Tredget EE, Stapelberg F, Friedman B, Mozingo D, Greenhalgh D, Pollock BH, Palmieri TL
2019

HTML
PDF

Clinical and socioeconomic differences in methamphetamine-positive burn patients. J Burn Care Res 40: 734-742, 2019.
Solomon EA, Greenhalgh DG, Sen S, Palmieri TL, Romanowski KS.
2019

HTML
PDF

Neuropathy may be an independent risk factor for amputation after lower-extremity burn in adults with diabetes. Clinical Diabetes 37: 352-356, 2019.
Sen S, Barsun A, Romanowski K, Palmieri T, Greenhalgh D.
2019

HTML


The frailty tipping point: Determining which patients are targets for intervention in a burn population. Burns 45:1051-1056, 2019.
Romanowski R, Curtis E, Barsun A, Palmieri T, Greenhalgh D, Sen S.
2019

HTML


Cervical spine injury in burned trauma patients: Incidence, predictors and outcomes. J Burn Care Res 40: 263-268, 2019.
Galganski LA, Cox JA, Greenhalgh DG, Sen S, Romanowski KS, Palmieri TL.
2019

HTML
PDF

Management of burns. N Engl J Med 380: 2349-2359, 2019.
Greenhalgh DG.
2019

HTML
PDF

Pressure injury in the critically ill elderly patient. Curr Geri Rep 2019 Jun 7: https://doi.org/ 10.1007/s13670-019-00289-3.
Greenhalgh DG.
2019




Uncovering a multitude of human glucocorticoid receptor variants: An expansive survey of a single gene. BMC Genet 2019 Feb 8;20(1):16. doi : 10.1186s12863-019-0718-z.
Leventhal SM, Lim D, Green TL, Cantrell AE, Cho K, Greenhalgh DG.
2019

HTML
PDF

Early clinical complete blood count changes in severe burn injuries. Burns 45: 97-102, 2019.
Sen S, Hsei L, Tran N, Romanowski K, Palmieri T, Greenhalgh D, Cho K.
2019

HTML


Current trends in practice for early mobility with the burn population. J Burn Care Res 40: 29-33, 2019.
Parry I, Sen S, Palmieri T, Greenhalgh D.
2019

HTML
PDF

The effects of storage age of blood in massively transfused burn patients: A secondary analysis of the randomized transfusion requrement in burn care evaluation study. Crit Care Med 46: e1097-e1104, 2018.
Cartotto R, Taylor SL, Holmes JH IV, Peck M, Cochran A, King BT, Bhavsar D, Tredget EE, Mozingo D, Greenhalgh D, Pollock BH, Palmieri TL.
2018

HTML
PDF

Building the burn physician workforce for the 21st century: Report from the February 2014 Burns Workforce Conference. J Burn Care Res 39:853-857, 2018.
Cochran A, Greenhalgh DG.
2018

HTML
PDF

Fetal bovine dermis as an alternative to allograft in large burn injuries. Burns Open 2: 178-180, 2018.
Sen S, Hsei L, Romanowski K, Palmieri T, Greenhalgh D.
2018

HTML
PDF

High-dose ascorbic acid for burn shock resuscitation may not improve outcomes. J Burn Care Res 39: 708-712, 2018.
Lin J, Falwell S, Greenhalgh D, Palmieri T, Sen S.
2018

HTML
PDF

Frailty is associated with mortality in patients aged 50 years and older. J Burn Care Res 39: 703-707, 2018.
Romanowski KS, Curtis E, Palmieri TL, Greenhalgh DG, Sen S.
2018

HTML
PDF

A comparative study of ReCell device and autologous split-thickness meshed skin graft in the treatment of acute burn injuries. J Burn Care Res 39: 694-702, 2018.
Holmes JH, IV, Molnar JA, Carter JE, Hwang J, Cairns BA, King BT, Smith DJ, Cruse CW, Foster KN, Peck MD, Sood R, Feldman MJ, Jordan MH, Mozingo DW, Greenhalgh DG, Palmieri TL, Griswold JA, Dissanaike S, Hickerson WL
2018

HTML
PDF

Timing of laparotomy and closure in burn patients with abdominal compartment syndrome: Effects on survival. J Am Coll Surg 226: 1175-1180, 2018.
Ramirez JI, Sen S, Palmieri TL, Greenhalgh DG.
2018

HTML
PDF

Sepsis in the burn patient: a different problem than sepsis in the general population. Burns Trauma. 5:23.
Greenhalgh DG.
2017

HTML
PDF

Defining Sepsis in Burn Patients: Still a Long Way to Go. J Burn Care Res. 38(6):e990-e991.
Greenhalgh DG.
2017

HTML
PDF

A Tri-Nucleotide Pattern in a 3′ UTR Segment Affects The Activity of a Human Glucocorticoid Receptor Isoform. Shock. 47(2):148-157.
Green TL, Leventhal SM, Lim D, Cho K, Greenhalgh DG.
2017

HTML
PDF

A novel human glucocorticoid receptor SNP results in increased transactivation potential. Biochem Biophys Rep. 9:140-145.
Green TL, Tung K, Lim D, Leventhal SM, Cho K, Greenhalgh DG.
2016

HTML
PDF

Colloids in Acute Burn Resuscitation. Crit Care Clin. 32(4):507-23.
Cartotto R, Greenhalgh D.
2016

HTML
PDF

More Than One Third of Intubations in Patients Transferred to Burn Centers are Unnecessary: Proposed Guidelines for Appropriate Intubation of the Burn Patient. J Burn Care Res. 37(5):e409-14.
Romanowski KS, Palmieri TL, Sen S, Greenhalgh DG.
2016

HTML
PDF

A primer on pigmentation. J Burn Care Res. 36(2):247-57.
Greenhalgh DG.
2015

HTML
PDF

A competing risk analysis for hospital length of stay in patients with burns. JAMA Surg. 150(5):450-6.
Taylor SL, Sen S, Greenhalgh DG, Lawless M, Curri T, Palmieri TL.
2015

HTML
PDF

Hyperactive Human Glucocorticoid Receptor Isoforms and Their Implications for the Stress Response. Shock. 43(3):228-32.
Lasker MV, Leventhal SM, Lim D, Green TL, Tung K, Cho K, Greenhalgh DG.
2015

HTML
PDF

Redefining the outcomes to resources ratio for burn patient triage in a mass casualty. J Burn Care Res 35: 41-45, 2014.
Taylor S, Jeng J, Saffle JR, Sen S, Greenhalgh DG, Palmieri TL.
2014

HTML
PDF

White phosphorus burns and arsenic inhalation: a toxic combination. J Burn Care Res 35: e128-e131, 2014.
Berndtson AE, Fagin A, Sen S, Greenhalgh DG, Palmieri TL.
2014

HTML


Divergent and dynamic activity of endogenous retroviruses in burn patients and their inflammatory potential. Exp Mol Pathol 96: 178-187, 2014.
Lee K-H, Rah H, Green T, Lee Y-W, Lim D, Nemzek J, Wahl W, Greenhalgh D, Cho K.
2014

HTML
PDF

Predicting resource utilization in burn treatment. J Burn Care Res 35: S235-S245, 2014.
Taylor S, Curri T, Lawless M, Sen S, Greenhalgh DG, Palmieri TL.
2014

HTML
PDF

Strong ion gap is associated with mortality in pediatric burn patients. J Burn Care Res 35: 337-341, 2014.
Sen S, Wiktor A, Berndtson A, Greenhalgh D, Palmieri T.
2014

HTML


Reducing postburn injury anemia in a Jehovah's Witness patient. J Burn Care Res 35: e258-e261, 2014.
Barsun A, Sen S, Palmieri TL, Greenhalgh DG.
2014

HTML


Keeping up with the video game technology: Objective analysis of Xbox Kinect and PlayStation 3 Move for use in burn rehabilitation. Burns 40: 852-859, 2014.
Parry I, Carbullido C, Kawada J, Bagley A, Sen S, Greenhalgh D, Palmieri T.
2014

HTML
PDF

Review of Burn Research for the year 2011. J Burn Care Res 34: 211-218, 2013.
Sen S, Greenhalgh D, Palmieri T.
2013

HTML


Burn Wound Healing Outcomes (In the American Burn Association Consensus Statements). J Burn Care Res 34: 381-385 (overall 361-385), 2013.
Singer AJ, Ahrenholz DH, Chang P, Clark RAF, Fey R, Fidler P, Garner W, Greenhalgh D, Honari S, Jones L, Kagan R, Kirby J, Leggett J, Meyer N, Reigart C, Richey K, Rosenberg L, Weber J, Wiggins B, Boyce ST.
2013




Estimating severity of burn in chilren: Pediatric Risk of Mortality (PRISM) score versus Abbreviated Burn Severity Index (ABSI). Burns 39: 1048-1053, 2013.
Berndtson AE, Sen S, Greenhalgh DG, Palmieri TL.
2013

HTML


Parry I, Sen S, Palmieri T, Greenhalgh D. Nonsurgical scar management of the face: Does early versus late intervention affect outcome? J Burn Care Res 34: 569-575, 2013.
2013

HTML


Strong ion difference and gap predict outcomes after adult burn injury. J Trauma Acute Care Surg. 75(4):555-61.
Berndtson AE, Palmieri TL, Greenhalgh DG, Sen S.
2013

HTML


A ten-year experience with pediatric face grafts. J Burn Care Res. 34(5):576-84.
Greenhalgh DG, Hinchcliff K, Sen S, Palmieri TL.
2013

HTML


Single nucleotide polymorphisms and type of steroid impact the functional response of the human glucocorticoid receptor. J Surg Res. S0022-4804(12)01965-8.
Baker AC, Chew VW, Green TL, Tung K, Lim D, Cho K, Greenhalgh DG.
2013

HTML
PDF

Prospective comparison of packed red blood cell-to-fresh frozen plasma transfusion ratio of 4: 1 versus 1: 1 during acute massive burn excision. J Trauma Acute Care Surg. 74(1):76-83.
Palmieri TL, Greenhalgh DG, Sen S.
2013

HTML


Commercially available interactive video games in burn rehabilitation: therapeutic potential. Burns. 2012;38:493-500.
Parry IS, Bagley A, Kawanda J, Sen S, Greenhalgh DG, Palmieri TL.
2012

HTML
PDF

Unique profile of ordered arrangements of repetitive elements in the C57BL/6J mouse genome implicating their functional roles. PLoS One 7(4): e35156. Doi:10.1371/journal.pone.0035156, 2012.
Lee Y-K, Lee K-H, Kim S-G, Melhem R, Moon C-S, Liu S, Greenhalgh DG, Cho K.
2012

HTML
PDF

Review of burn research for the year 2010. J Burn Care Res. 2012:33:577-86.
Sen S, Greenhalgh D, Palmieri T.
2012

HTML


ERE database: A database of genomic maps and biological properties of endogenous retroviral elements in the C57BL/6J mouse genome. Genomics 100: 157-161, 2012.
Kao D, Hsu K, Chiu S, Tu V, Chew A, Lee K-H, Lee Y-K, Kwon D-N, Greenhalgh DG, Cho K.
2012

HTML
PDF

A 10-year review of lower extremity burns in diabetics: small burns that lead to major problems. J Burn Care Res. 2012.
Barsun A, Sen S. Palmieri TL, Greenhalgh DG.
2012

HTML


A comparison of dexmedetomidine and midazolam for sedation in severe pediatric burn injury. J Burn Care Res. 2012;33:759-63.
Fagin A, Palmieri T, Greenhalgh D, Sen S.
2012

HTML


Harnessing the Transparent Face Orthosis for facial scar management: A comparison of methods. Burns. S0305-4179(12)00373-7.
Parry I, Hanley C, Niszczak J, Sen S, Palmieri T, Greenhalgh D.
2012

HTML
PDF

A comparison of dexmedetomidine and midazolam for sedation in severe pediatric burn injury. J Burn Care Res. 33(6):759-63.
Fagin A, Palmieri T, Greenhalgh D, Sen S.
2012

HTML


Treating a collagen scaffold with a low concentration of nicotine-promoted angiogenesis and wound healing. J Surg Res. S0022-4804(12)00909-2.
Greenhalgh DG.
2012

HTML
PDF

Takotsubo cardiomyopathy caused by severe burn injury. J Burn Care Res. 33(5):e243-6.
Fagin A, Sen S, Palmieri T, Greenhalgh D.
2012

HTML


Long-term functional outcomes in the elderly after burn injury. J Burn Care Res. 33(4):497-503.
Palmieri TL, Molitor F, Chan G, Phelan E, Shier BJ, Sen S, Greenhalgh DG.
2012

HTML


Interferon-gamma inhibits healing post scald burn injury. Wound Repair Regen. 20(4):580-91.
Shen H, Yao P, Lee E, Greenhalgh D, Soulika AM.
2012

HTML
PDF

Enhanced steroid response of a human glucocorticoid receptor splice variant. Shock. 38(1):11-7.
Baker AC, Green TL, Chew VW, Tung K, Amini A, Lim D, Cho K, Greenhalgh DG.
2012

HTML


The ABC Daycare Disaster of Hermosillo, Mexico. J Burn Care Res. Mar-Apr;33(2):235-41.
Greenhalgh DG, Chang P, Maguina P, Combs E, Sen S, Palmieri TL.
2012

HTML
PDF

Multiplex polymerase chain reaction pathogen detection in patients with suspected septicemia after trauma, emergency, and burn surgery. Surgery. Mar;151(3):456-63.
Tran NK, Wisner DH, Albertson TE, Cohen S, Greenhalgh D, Palmieri TL, Polage C, Kost GJ.
2012

HTML
PDF

Response to: Car Seat Heaters as a Potential Burn Hazard: A Clarification. J Burn Care Res. 2011.
Greenhalgh DG, Maguina P, Palmieri TL.
2011

HTML


Herpes Simplex Activation Prolongs Recovery From Severe Burn Injury and Increases Bacterial Infection Risk. J Burn Care Res. 2011 Nov 10.
Sen S, Szoka N, Phan H, Palmieri T, Greenhalgh D.
2011



Surfactant Therapy for Acute Respiratory Distress in Severe Pediatric Burn Injury: A Case Series. J Burn Care Res. 2011 Nov 10.
Sen S, Tung K, Palmieri T, Greenhalgh D.
2011



Multiplex PCR pathogen detection in two severely burned patients with suspected septicemia. J Burn Care Res. Nov-Dec;32(6):e172-7.
Tran NK, Greenhalgh DG, Palmieri TL, Kost GJ.
2011



Recombinant human thrombin: safety and immunogenicity in pediatric burn wound excision. J Pediatr Surg. Oct;46(10):1992-9.
Foster KN, Mullins RF, Greenhalgh DG, Gamelli RL, Glat P, Lentz CW, Kahn SA, Brandigi C, Fredlund P, Alexander WA.
2011

HTML
PDF

Novel hyperactive glucocorticoid receptor isoform identified within a human population. Shock Oct;36(4):339-44.
Tung K, Baker AC, Amini A, Green TL, Chew VW, Lim D, Nguyen ST, Yee KS, Cho K, Greenhalgh DG.
2011



Cerebellum-specific and age-dependent expression of an endogenous retrovirus with intact coding potential. Retrovirology Oct 12;8:82.
Lee KH, Horiuchi M, Itoh T, Greenhalgh DG, Cho K.
2011

HTML
PDF

Tropism, cytotoxicity, and inflammatory properties of two envelope genes of murine leukemia virus type-endogenous retroviruses of C57BL/6J mice. Mediators Inflamm. 2011;2011:509604.
Lee Y-K, Chew A, Greenhalgh DG, Cho K.
2011

HTML
PDF

Identification of a unique library of complex, but ordered, arrays of repetitive elements in the human genome and implication of their potential involvement in pathobiology. Exp Mol Pathol 90: 300-311.
Lee K-H, Lee Y-K, Kwon D-N, Chiu S, Chew V, Rah H, Kujawski G, Melhem R, Hsu K, Chung C, Greenhalgh DG, Cho K.
2011

HTML
PDF

Methods and tools used for the measurement of burn scar contracture. J Burn Care Res 31: 888-903.
Parry I, Walker K, Niszczak J, Palmieri T, Greenhalgh D.
2010

HTML

Review of Burn Injury Research for the Year 2009. J Burn Care Res 31: 836-848.
Sen S, Greenhalgh D, Palmieri T.
2010



The effect of hand burns on quality of life in children. J Burn Care Res 31: 414-422, 201.
Dodd AR, Nelson-Mooney K, Greenhalgh DG, Beckett LA, Li Y, Palmieri TL.
2010

HTML

Acute kidney injury in critically ill burn patients. Risk factors, progression and impact on mortality. Burns 36: 205-211.
Palmieri T, Lavrentieva A, Greenhalgh DG.
2010

HTML
PDF

An assessment of acute kidney injury with modifed RIFLE criteria in pediatric patients with severe burns. Intensive Care Med 35: 2125-2129.
Palmieri T, Lavrentieva A, Greenhalgh D.
2009

HTML
PDF

Experimental polymicrobial peritonitis-associated transcriptional regulation of murine endogenous retroviruses. Shock 32: 147-158.
Cho K, Chiu S, Lee Y-K, Greenhalgh D, Nemzek J.
2009

HTML
PDF

Stress-mediated increases in systemic and local epinephrine impair skin wound healing. PLoS Med 6: e1000012(1-11), 2009.
Sivamani RK, Pullar CE, Manabat-Hidalgo CG, Rocke DM, Carlsen RC, Greenhalgh DG, Isseroff RR.
2009

HTML
PDF

Are topical antimicrobials effective against bacteria that are highly resistant to systemic antibiotics? J Burn Care Res 30: 19-29, 2009.
Neely AN, Gardner J, Durkee P, Warden GD, Greenhalgh DG, Gallagher JJ, Herndon DN, Tompkins RG, Kagan RJ.
2009

HTML

Steroids in the treatment of smoke inhalation injury. J Burn Care Res 30: 165-169, 2009.
Greenhalgh DG.
2009

Studies of inhaled agents in inhalation injury. J Burn Care Res 30: 169-171, 2009.
Palmieri TL, Enkhbaatar P, Sheridan R, Traber DL, Greenhalgh DG.
2009

Potential studies in extubation adjuncts after inhalation injury. J Burn Care Res 30: 199-200, 2009.
Greenhalgh DG, Warner P.
2009

Inhalation injury in children: A 10 year experience at Shriners Hospitals for Children. J Burn Care Res 30: 206-208, 2009.
Palmieri TL, Warner P, Mlcak RP, Sheridan R, Kagan RJ, Herndon DN, Tompkins R, Greenhalgh DG.
2009

HTML

Recombinant thrombin: Safety and immunogenicity in burn wound excision and grafting. J Burn Care Res 30: 371-379, 2009.
Greenhalgh DG, Gamelli RL, Collins J, Sood R, Mozingo DW, Gray TE, Alexander WA.
2009

HTML

Cloning and characterization of endogenous retroviruses associated with postinjury stress signals in lymph tissues. Shock 32: 80-88, 2009.
Kwon D-N, Greenhalgh DG, Cho K.
2009

HTML

Cosegregation of CD14 locus and polymorphic alleles of glucocorticoid receptor and protocadherins into CD14 knockout mouse genome. Shock Jun;29(6):724-32.
Cho K, Hsu K, Kwon DN, Green T, Lim D, Lee YK, Greenhalgh DG.
2008



The effect of CAG repeat length polymorphism in the murine glucocorticoid receptor on transactivation potential. Exp Mol Pathol. 2008 Jun;84(3):200-5.
Yee KS, Cho K, Green T, Chandler J, Greenhalgh DG.
2008

HTML
PDF

Steroids and extubation: The potential for clinical trials. J Burn Care Res 30: 196-197, 2009.
Greenhalgh DG.
2008

HTML

Analysis of admissions and outcomes of verified and nonverified burn centers. J Burn Care Res 29: 208-212, 2008.
Palmieri TL, London JA, O'Mara MS, Greenhalgh DG.
2008


HTML

Pediatric soup scald burn injury: Etiology and prevention. J Burn Care Res 29: 114-118, 2008.
Palmieri TL, Alderson TS, Ison D, O'Mara MS, Sharma R, Bubba A, Coombs E, Greenhalgh DG.
2008


HTML

Genome-wide expression profiles of endogenous retroviruses in lymphoid tissues and their biological properties. Virology 373(2):263-273.
Lee, Y. K., A. Chew, H. Phan, D. G. Greenhalgh, and K. Cho.
2008


HTML
PDF

Participating Members of the Multicenter Trials Group of the American Burn Association. Positive fungal cultures in burn patients: A multicenter review. J Burn Care Res 29: 213-221, 2008.
Ballard J, Edelman L, Saffle J, Sheridan R, Kagan R, Bracco D, Cancio L, Cairns B, Baker R, Fillari P, Wibbenmeyer L, Voight D, Palmieri T, Greenhalgh D, Kemalyan N, Caruso D.
2008


HTML

Efficacy and safety of a fibrin sealant for adherence of autologous skin grafts to burn wounds: Results of a phase 3 clinical study. J Burn Care Res 29: 293-303, 2008.
Foster K, Greenhalgh D, Gamelli RL, Mozingo D, Gibran N, Neumeister M, Abrams SZ, Hantak E, Grubbs L, Ploder B, Schofield N, Riina LH, and the FS 4IU VH S/D Clinical Study Group.
2008


HTML

Effects of a restrictive blood transfusion policy on outcomes in children with burn injury. J Burn Care Res 28: 65-70, 2007.
Palmieri TL, Lee T, O'Mara MS, Greenhalgh DG.
2007


HTML

Comparison of fibrin sealant and staples for attaching split-thickness autologous sheet grafts in patients with deep partial- or full-thickness burn wounds: A phase 1 / 2 clinical study. J Burn Care Res 28: 401-408, 2007.
Gibran N, Luterman A, Herndon D, Lozano D, Greenhalgh DG, Grubbs L, Schofield N, Hantak E, Callahan JD, Schiestl N, Riina LH, and the FS 4IU Clinical Study Group.
2007


HTML

Burn Resuscitation. J Burn Care Res 28: 555-565, 2007
Greenhalgh DG.
2007



Cutaneous wound healing. J Burn Care Res 28: 577-579, 2007.
Gibran NS, Boyce S, Greenhalgh DG.
2007



Hand Burns. J Burn Care Res 28: 607-610, 2007.
Kowalske KJ, Greenhalgh DG, Ward SR.
2007